Cerium Tungstate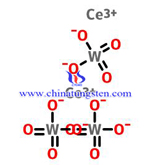 Chinese Name: 氧化钨铈
Other Chinese Name: 钨酸铈(III)
English Name: Cerium Tungstate
Other English Names: Cerous Tungstate, Cerium Tungstate, Cerium Tungsten Oxide, Cerium (III) Tungstate, Cerium (III) Tungstate
Molecular Formula: Ce2O12W3
Molecular Weight: 1023.74000
Exact Mass: 1023.60000
logP:-1.42560
PSA:240.78000
CAS Number: 13454-74-5
EINECS Number: 236-639-9
CB Number:CB4365725
Traits: Yellow tetragonal
Relative Density: 6.77g/cm3
Melting Point:1089℃
Cerium tungstate has ferromagnetism at the temperature of less than 30K, should be airtight and stored at room temperature, and placed in a cool, dry and ventilated environment; heating the mixture of Ce2O3, CeO2 and WO3can obtain cerium tungstate.
Toxicological data of cerium tungstate:
1. Acute toxicity: It will cause irritation of skin, mucous membrane and the eyes, no known sensitizing influence;
2. Sensitization: May cause sensitization by inhalation, and may cause sensitization by skin contact.
If you have any other question or inquiry of cerium tungstate, please contact us through the following methods:
Email:sales@chinatungsten.com
Tel.: +86 592 5129696 / 86 592 5129595    Fax: +86 592 5129797