Ammonium Tungstate Pentahydrate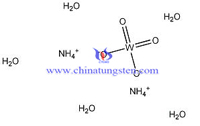 Ammonium Tungstate Pentahydrate
Molecular Formula: H18N2O9W
Molecular Weight: 373.99100
Exact Mass: 374.05200
CAS No.: 76585-22-3
MDL No.: MFCD00015956
Storage Method: Sealed in dry and cool place.
Ecological Spatial Data: It may do harm to environment, special attention should be paid to water.
If you have any interest in ammonium tungstate , please feel free to contact us by email: sales@chinatungsten.com or by telephone:+86 592 5129696.
More info>>